In the past few months we've seen both 10 Barrel and Elysian breweries, two big players in the Northwest craft beer scene, get bought out by Anhueser-Busch. Many were up in arms about it, saying that they had sold out and were simultaneously diluting and condensing the craft beer market, the exact antithesis of what so many love about craft beer: Variety.
Before the purchase, the owners of 10 Barrel claimed that nothing would change. In a recent town hall meeting they intimated that, in fact, that wouldn't be the case.
"There is change," Cox said. "We're on record saying, 'Nothing's going to change.' There is change."
Anheuser-Busch will be sinking $10 million into the brewery, installing 6 new 400-barrel tanks and new hires.
Jeremy and Chris Cox, founders of 10 Barrel and Dick Cantwell and David Buhler, founders of Elysian, felt quite positive about the sales of the brewery and the state of the craft brewing industry in general.
To a house full of business owner and entrepreneurs, the Cox brothers said
"As far as apologizing, I don't want this to come out the wrong way, but we promised we'd be really honest, upfront and transparent," Wales said, responding to a question about backlash from the sale. "We feel 100 percent that we have absolutely nothing to apologize for, and never would we apologize for the sale."
In stark contrast to the 10 Barrel acquisition, the head of Anhueser-Busch's Craft Beer sector Andy Goeler, said Elysian won't see any changes.
"That answer to that is NO! The simple answer is that we bought Elysian to continue to be who they are. So the will continue to operate in Seattle, same people to continue to run the brewery, make great beers so you don't see a lot of change occurring. We want them to kind of the core of who they are in tact".
One of the most popular craft brew memes in the past five days has been the irony of Elysian's "Loser" beer. It was first brewed in 2008 to celebrate the 20th Anniversary of Sub Pop Records. Will Elysian continue to brew Loser?
"Absolutely, we all are losers", says Buhler. When asked about the beer label that states "Corporate Beer Still Sucks", Cantwell jumps in to say, "The plan is to keep it the same…. It adds another layer to the joke". Buhler interjects, "We always thought it was funny that people didn't get the joke. From the beginning we were a corporation and we were literally calling ourselves the Loser. That's what that beer was about".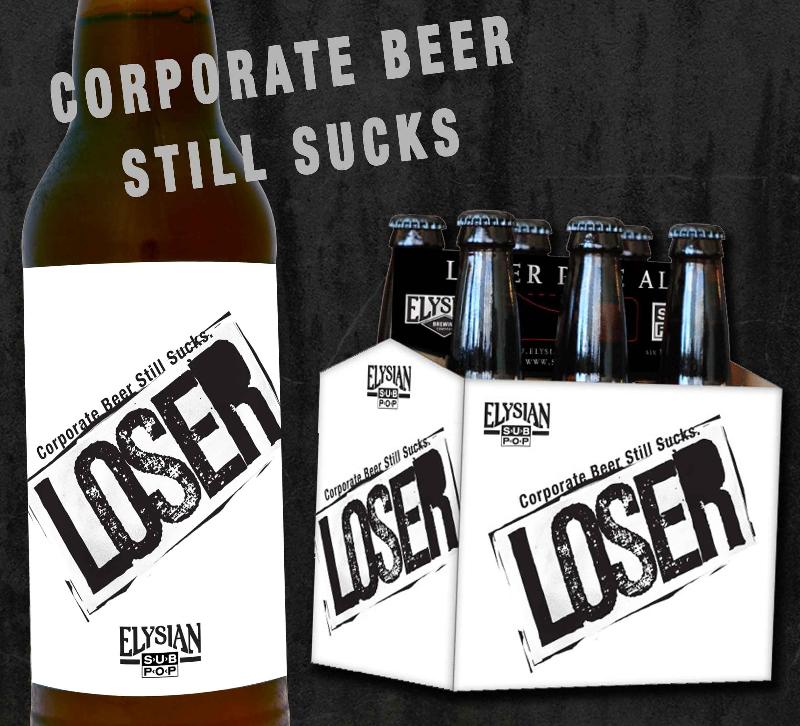 The founders have always thought of themselves as corporate, so the insults over these past few days have fallen on deaf ears.
Everyone's main concern is that more breweries under less diverse ownership (consolidation) will lead to lower quality in need to cut costs. As we know, craft beer costs much more to brew than macrobrew. It still remains to be seen if Elysian will go unchanged. Maybe craft beer won't change at all. So many breweries, so many changes, so much beer. Some will stay small, some will go big. In the interim the owners of these breweries are quite happy with their decisions.
From the article on the town hall meeting.
Let the beer speak for itself, and if, in six months, the quality declines, Wales said, "shame on us."