Welcome back all you hop hawkers, bottle browsers, draft drinkers, and new release raiders. Friday saw the worldwide launch party of Melvin Bottles at Elizabeth Station. The house was packed and folks were clamoring to get their hands on the beloved 2X4 IPA for the first time ever in bottles. Up to this point it has been a draft rarity, all of Melvin's beers have been actually.
Straight from the horse's (err, Donkey's?) mouth, Melvin was started "with big ideas and even bigger barrels of hops, Melvin now takes off in the hands of Co-Founder/Field Hoperative  – Jeremy Tofte, Co-Founder/Head Donkey – Kirk McHale, and Head Production Brewer – Dave Chichura. Let's get to it. Thai Me Up Restaurant, the original home of Melvin Brewing, was already known for its world class beer. Melvin is now expanding from a 3bbl to a 30bbl system after winning two medals at the World Beer Cup earlier this year: A gold in the Imperial Indian Pale Ale category for its 2×4 and a bronze in the fruit beer category for its Chchchch-Cherry Bomb."
The new brewery is shaping up rather nicely.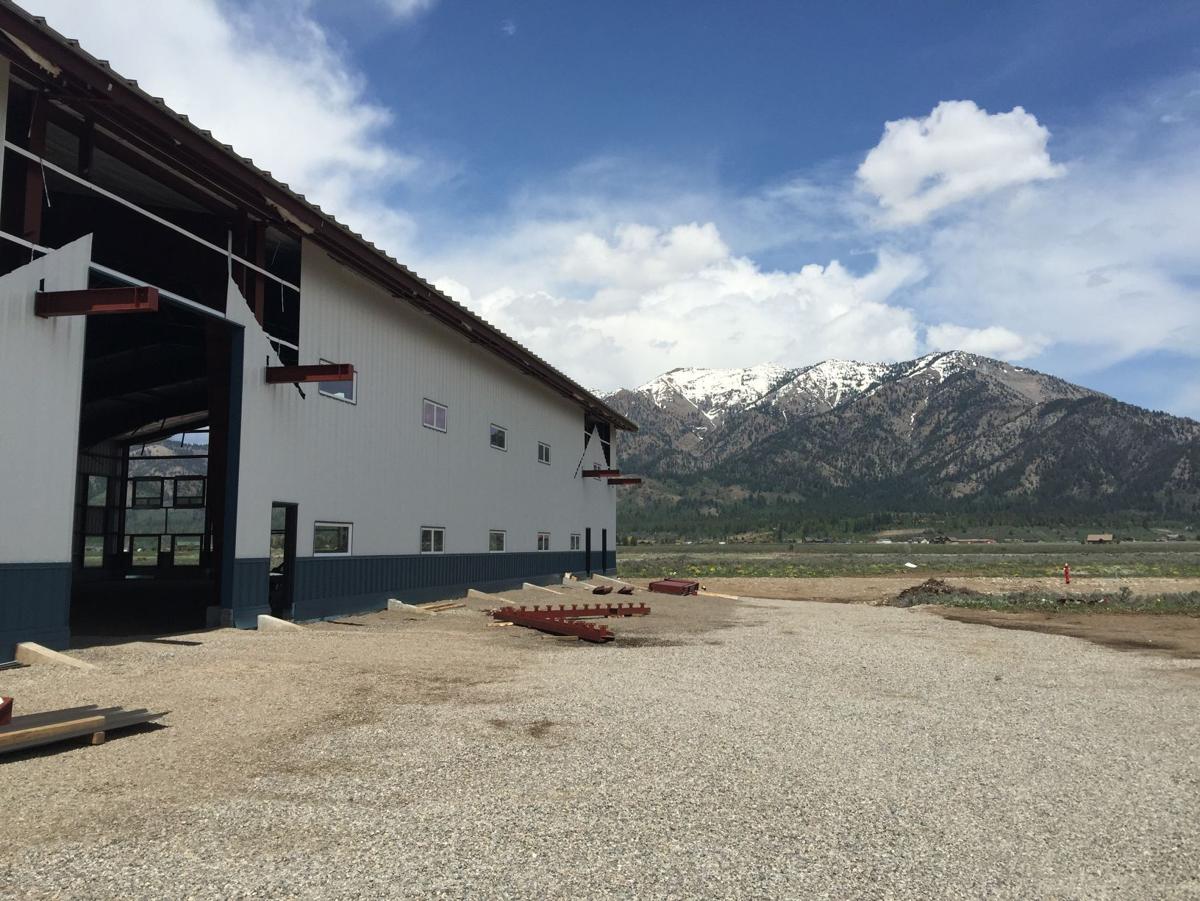 I have always been a fan of the little guy, and found the structure and overall plan for Melvin's future to be quite intriguing. Equipped with a $3M loan from Wyoming State's Business Council, the new brewery is shaping up quite nicely in Alpine. "We have 15 years to pay back just over $2 million of the $3 million they gave to the town of Alpine for our project," explains Tofte, noting that Lincoln County has the highest unemployment rate of any county in Wyoming. For this reason, the loan is interest-free if Melvin creates 24 jobs by 2020.
Make no mistake, this will be Wyoming's Brewery. There is no doubt that Melvin will be synonymous with beer and Wyoming, if they aren't already.
With all that said, let's jump right into the beers, shall we?
Beer#1 — Hubert MPA / Melvin Pale Ale
ABV — 6.0%
Price — $5.99 / 22 oz
A (3/3) — Pours a bright honied amber color, a light white head leaves behind great lacing.
S (10/12) – Intensely sweet, fresh, and hoppy, bitter, juicy, remarkable.
T (17/20) – Great juicy hop notes, balanced with a little piney bitterness.
M (5/5) – Medium bodied, nice carbonation level as well.
O (8/10) – Very nice APA, drinks more like an IPA, it is intensely hoppy and brilliant.
OVERALL — 43 / 50 — EXCELLENT
Beer#2 — Melvin IPA / India Pale Ale
ABV — 7.5%
Price — $5.99 / 22 oz
A (3/3) — Pours a nice orangey amber hue into the glass, with a straw colored head on top of the beer, leaves behind a nice bit of consistent lacing.
S (9/12) — Smells quite piney, earthy, herbal, resinous, pithy and dank. Lots of woody, grassy, and lemony hop character.
T (16/20) — Much like the nose, though not so in your face, a nice balance of pine and lemon, with a nice bit of malt sweetness to round everything out. Some tropical peachy notes as well.
M (4/5) — Medium bodied, great carbonation level.
O (8/10) — Great overall, it's really tough to bet against Melvin. Keep up the good work. This is perhaps the most quintessential Melvin beer made. A benchmark IPA.
OVERALL — 40 / 50 — EXCELLENT
Beer#2 — Melvin 2×4 / Double India Pale Ale
ABV — 10.0%
Price — $8.99 / 22 oz*
Dear (insert your name here), This is the best damn DIPA in the world. So if you were even considering sulking today, think again. Our 2×4 Double IPA is the Gold Winner at WBC, GABF, NABA, and the Alpha King Championship; two years in a row. Lets just say, you'd be crazy not to drink this.
A (3/3) — Pours a very bright and hazy yellow, with thin white colored head that leaves behind nice enough lacing.
S (11/12) — Notes of lemon, orange, pineapple, citrus, mango, sweet notes abound.
T (18/20) — Light notes of pine and bitter hop, then comes big waves of juiciness, pineapple, mango, citrus, sweet overall.
M (4/5) — Medium bodied, the amount of alcohol is very well hidden, drinks a bit thin somehow, though its not detrimental by any means.
O (8/10) — Nice IIPA here, juicy, bright, sweet, nice balance, lives up to everything it claims.
OVERALL — 44 / 50 — EXCELLENT
Bottom line is that you really can't go wrong here. All are excellent offerings and very well made. In the mood for a pale, enjoy a Hubert, want to redefine your idea of an IPA, enjoy a Melvin IPA, wan't to see if 2×4 lives up to the hype, drink one, now.
Jeremy and the gang, thanks for bringing the Melvin Hearse to Elizabeth Station and helping launch Melvin Bottles into the world, we had a great time!
Kirk, Dave, Will, and the rest of the Melvin family, keep up the good work, and keep on making these damn good brews. Cheers!
*Bottles of Hubert and IPA are available at Elizabeth Station, 2×4 sold out on Friday but should be returning soon. Keep an eye out for Melvin cans, and another party, in early April.