Welcome back beer lovers from near and far, pundits of Porter and sippers of Scotches.
I was fortunate enough to have spent the last week with dear friends in the UK, exploring many new beers and pubs, some which stuck out to me the most however, were from BrewDog. Our gracious hosts each happen to work at different BrewDog Pubs in the greater London area, we were all able to stop in for a pint at BrewDog pubs in Soho, Shoreditch, Clapham Junction, and Edinburgh.
Old Street Tube Station
All of these pubs were uniquely, similarly, unified. Each had a similar theme and draw (fantastic craft beer), but each was quietly different than the one before, on the surface they were all the same, though upon further inspection each had their own unique intricacies and unique identifiers.
BrewDog Soho
The beers at each were more or less the same, but the way that they were displayed was subtly different each time. Pricing was somewhat variable and tap lists were displayed in a uniquely themed way at each spot, without altering the layout. It was perhaps a change of font, or a different medium, depending on which pub you were in.
Edinburgh
Could you get Punk IPA in every pub? Yes. Was it always £5.30? No. Was it always delicious? Yes. Each pub and spot had their own little wrinkles of uniqueness, but they all championed the same mission of providing the best craft beer possible. Half of the board is dedicated to BrewDog core beers — Punk, Hardcore, Lager, Jet Black Heart, Doodlebug, 5 AM Saint, Vagabond, and others, they have a broad array of core styles that keeps the mix familiar but interesting at the same time.
Clapham Junction
The other half of the board is dedicated to guest taps and was surprisingly familiar and repetitive in each of the locations we visited. Weihenstephaner Hefe and/or Helles, Lindemans Framboise and/or Kriek, Beavertown Gamma Ray, were all available at each of the different pubs we visited, Five Points, Kernel, and Siren beers were all available sporadically at each pub as well. All great beers in their own right, but for some reason I had expected each pub to have their own inherently and entirely unique list of guest taps. There is an opportunity here to work incredibly close with local breweries and work as an auxiliary or complementary tap room. All that said, each spot offered a great experience. Attention to detail was evident throughout. All pours were excellent. Samples were encouraged, all the folks behind the bar seemed genuinely passionate about what they were doing, each stop was great and unique, but they all managed to feel familiar, which was nice.
The future is bright for BrewDog, with 42 acres of earth in Columbus to put a brand new 100,000 sq/ft brewery on, expect to see fresh BrewDog cans later this year. Already thriving with 28 UK pubs and 21 more across the rest of the world, expect to see more open in the US and abroad in the coming months and years. They will also be extending their Equity for Punks program to the US in due time, yes indeed, you can buy stock in BrewDog. The current going rate is £95 per one share, which is matched 1:1 by the brewery if you so happen to work there, pretty awesome if you ask me. I could continue on about the BrewDog experience, but let's get to the good stuff and recall some of the most outstanding beers from the trip.
The Best BrewDog Beers Sampled
Albino Squid Assassin — A Red Rye IPA is right up my alley, this one brings wonderfully pungent hop notes of berry and citrus balanced upon a dry and subtly spicy Rye foundation. Very smooth and clean with a slightly dry and lingering finish.
Elvis Juice — This Grapefruit IPA is what Grapefruit Sculpin strives to be, this is pungent, fresh, juicy, clean, and crisp. Wonderfully fresh and authentic notes of citrus rind and peel balanced with a subtly sweet caramel malt foundation. Spectacular.
Hop Fiction — A wonderfully dry and zesty Pale Ale, crisp and clean, with subtle piney and citrusy hop notes. Very light malt base lets the hops shine through and conquer.
Hinterland — An incredible stout, garnering great notes of chocolate, vanilla, coffee, char, bittersweet cocoa, espresso, marshmallow. A bit boozy and warming compared to the rest. A surprisingly fantastic stout. If I see this I will grab a boatload.
Libertine — Perhaps the best Black IPA I've ever had, this was impeccably balanced with fresh zesty hop notes balanced with a subtly toasty and charred malt foundation. Please, please, please, bring this to Columbus and put it in cans immediately.
Honorable Mentions 
Shipwreck — An American Strong Ale brewed in collaboration with Ballast Point (note the blacked out portion of the label), aged in Speyside Scotch Whisky Casks. This was pungent, boozy, malty, warming, burning, uniquely smoky and Scotchy.
B Side: Red Ale — Very reminiscent of 21A Toaster Pastry without as much of a cloying malt foundation. Very juicy berry hop notes, very jammy and smooth, could have this one for days.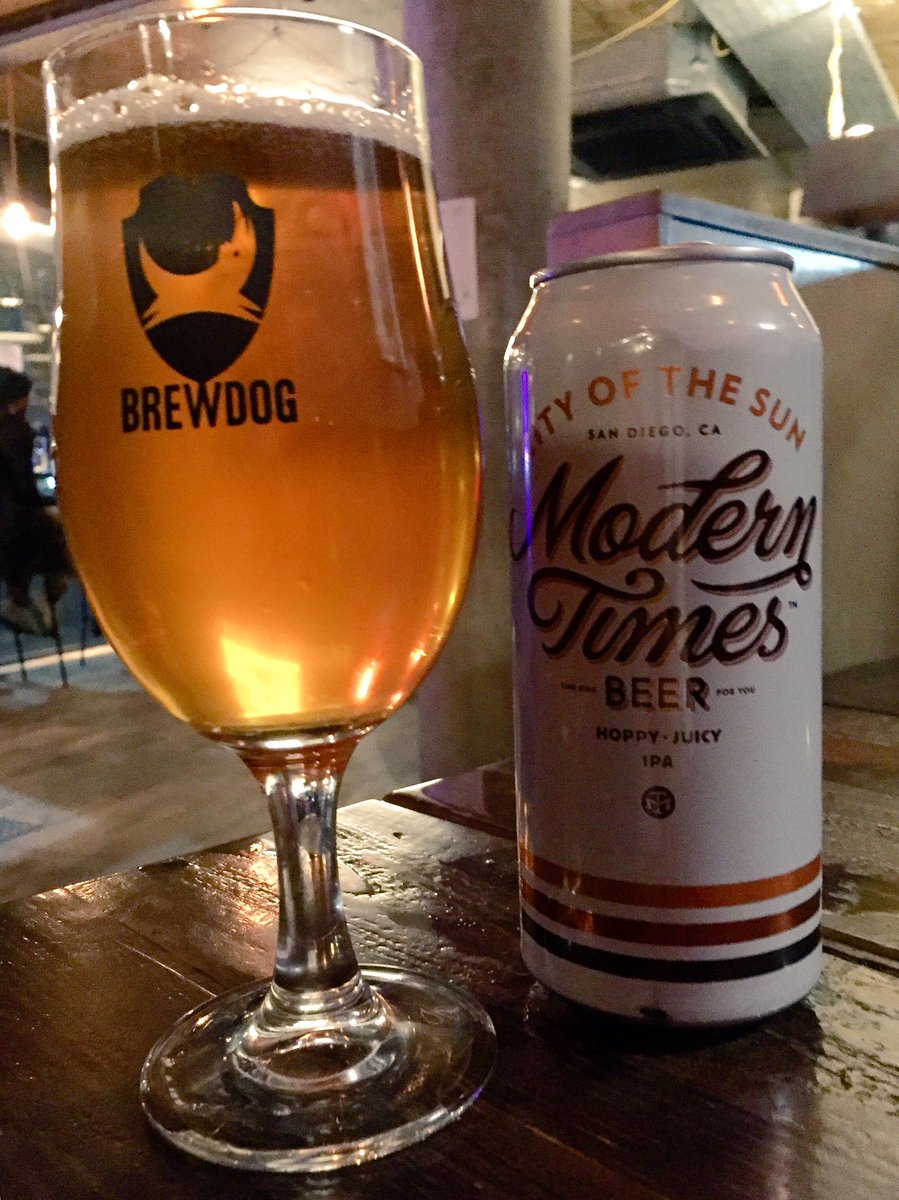 Modern Times City of the Sun — I find it a tad ridiculous that I have to travel to London to find Modern Times beers but man was this a great IPA. Wonderful solid malt base with incredibly juicy and fresh hop balance. Please, just send this to WA already.
A wonderful trip through and through. There were many many more wonderful beers, especially some delicious Cask ales, but we'll leave those for another time for now. Thanks to all the folks who welcomed us at each BrewDog and provided great beer and great company. Also had a great time reading the new Business For Punks. Cheers!
I'd like to extend a special thank you to our hosts and friends Matt & Shelly, thank you for a wonderful trip through the UK, it was great getting to see you guys, we had a blast!