Good morning to all, this installment of Tap Trail beer reviews is coming in extra early. I am heading out for a quick camping trip and didn't want to leave everyone hanging again. Also reading this before you do your beer shopping might inspire you to grab something new today, maybe this bottle, maybe not.
What we've got is the latest installment in Stone's new "Imperial Seasonal Release" this Mocha IPA is replacing the Americano Stout and filling in until Xocoveza arrives again.
So just what is Mocha IPA you may ask, at its most basic it is a 9% ABV, super unique and delicious IPA. The more detailed approach reveals that it is an Imperial IPA brewed   with Cacao, Coffee, and Lactose Sugar.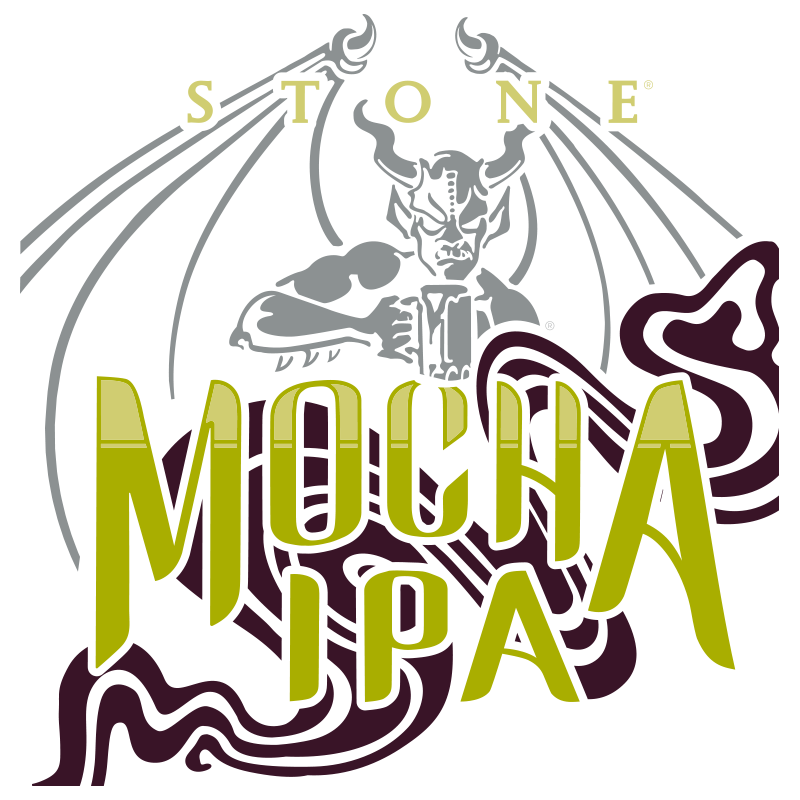 I still fondly remember my first Coffee Infused IPA experience and I have been searching for a substitute ever since. It was from a stop into Fate Brewing in Boulder, CO, their Coffee IPA infused w/single origin ethiopian cold pressed Ozo coffee was a game changer for me. Intense piney citrusy IPA notes balanced with resinous chewy chocolaty coffee character. It was super unique and I had been unable to find a viable substitute for it, until now perhaps. I did appreciate the Fate IPA coming in at a more standard 7% ABV opposed to the 9% ABV here, but we'll get into that in our tasting notes below.
Brewery — Stone, Escondido, CA
Beer — Mocha IPA
ABV / IBU — 9.0% / 80
Cost / Oz — $2.99 / 12 oz
Availability — Limited / Seasonal
Appearance (2/3) — Pours out with a slightly syrupy consistency and hue, looks like a dark – medium amber as far as the IPA spectrum goes, there is certainly some influence from the coffee and chocolate additions. There is a caramel colored head that forms on top, but it subsides rather quickly and leaves some spotty oily patches of lacing along the inside of the glass with each sip.
Aroma (8/12) — Smell is strongly accentuated by fresh ground coffee and some bitter bakers chocolate. There is a nice caramel sweetness to it as well. Even when cold there is a slightly strong boozy note, a little bit warming even. As it warms up the alcohol presence becomes more prevalent.
Flavor (14/20) — Rich and chocolaty initially, as it warms you get a lot more hop presence. Some chewy pine, lemon, and earthy Cascade hops make themselves known. There is a really nice coffee finish to this as well, really rounds things out. Again though, there is a slightly detrimental alcohol component, just a bit too dialed up.
Mouthfeel (3/5) — This beer is heavy, rich, warming, chewy, and sweet. It is a bit of a challenge to get through the 12 oz at a time, there is a lingering sweetness that sits on the palate after each sip. I wonder if this would be better if it wasn't a 9% Imperial, and was instead a 6.5% standard IPA, would achieve greater balance perhaps.
Overall (7/10) — Totally unique and as close to a viable substitute for the elusive Fate Ozo Coffee IPA I have been lusting after for years now. I love that the boundaries continue to be blurred here. With hops becoming more expensive and harder to come by I do believe we will see more unique interpretations of IPA's and flavored IPA's using some adjuncts. Not sure it will always be coffee or chocolate, but we will continue to see fruited IPA's and flavored beers. There is clearly demand for it, just ask Ballast Point.
OVERALL — 34 / 50 — VERY GOOD
Enjoy the rest of the weekend everybody! If you're just after a sample of this one, I think there is a keg on at Elizabeth Station. Cheers!