Pumpkin beers, in July? Yes, some have been released already, and many more are sure to come, and no, right now pumpkins are not even in season. Somehow, that doesn't stop Elysian (and others), from releasing pumpkin beers in July and August. I, like many others will happily celebrate the arrival of Fall in a few long weeks, but we've still got the rest of summer to celebrate and enjoy here. Many more nights to imbibe on Pilsner and Kölsch while on the boat or on the back porch, it will be a sad day when Fremont Summer Ale is no longer on shelves. I understand Summer has been warm, but the days have been long, and full of activity. However in preparation for Fall, I wanted to give a preview of what is to come. Pumpkin beers arrive in many iterations — do you enjoy spicy and boozy, or sweet and rich? Pumpkin beers happily embrace a broad flavor spectrum. Let's take a look at a few classic examples, as well as a couple wild examples. It's like Fall in a glass.
Uinta Brewing Company (Salt Lake City, UT) — PUNK'N
5.0% ABV / 10 IBU / $1.79
A lighter and somewhat spicier option, not so boozy, bit of a gingerbread cookie component to it. Balancing bit of sweet malt without being too heavy.
Dogfish Head (Milton, DE) — Punkin Ale
7.0% ABV / 28 IBU / $2.49
A rich and almost nutty brown ale, lots of pumpkin and toasted brown sugar character, balanced with a bit of brown sugar and molasses like sweetness.
Elysian Brewing Company (Seattle, WA) — Night Owl
6.7% ABV / 18 IBU / $1.89
Quite well balanced, brewed with seven and a half pounds of pumpkin per barrel, brings a nice rich pumpkin flavor without being overly spicy or sweet, nice example. Elysian does have a few other pumpkin beers, hat tip to Punkuccino, but this is simply their best true representation of pumpkin.
Southern Tier (Lakewood, NY) — Pumking
8.6% ABV / $9.99 (22oz)
A deep copper hued ale, slightly sweet pie crusty nose, tastes strongly of pie spices, cinnamon, nutmeg, clove, allspice, all balanced with a buttery pie crust sweetness. Big and boozy.
Avery Brewing Company (Boulder, CO) — Pump

[KY]n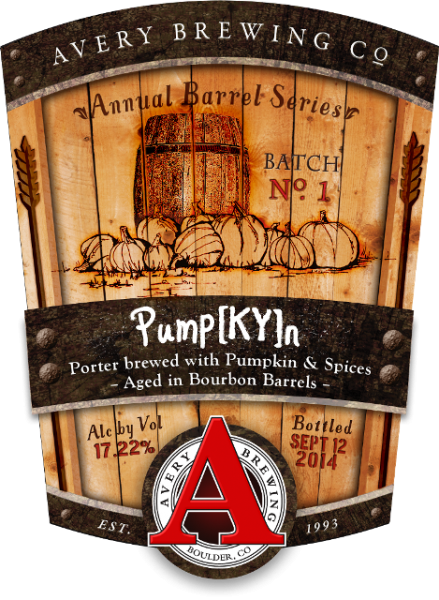 17.22% ABV! / $14.99
Perhaps we've saved the best for last, truly herculean pumpkin beer, this is not for the faint of heart. An astronomical ABV and a huge bourbon barrel kick take this beer over the top, a true masterpiece. Just be sure to tread lightly.
As more beers are released as the season arrives, I will update with any new and exceptional beers of note. Fall will be here soon, cheers!