The popularity of IPAs are unmatched. They are, without a doubt the most popular beer
[
and most hated!
] in the US. The growth of this style has been a
major factor in the growth
of the
craft beer industry itself.
 IPAs are so loved the very use of "IPA" has
led to law suits
.
Paste Magazine blind tasted 116 IPAs and they recently announced the winners. Their lineup is pretty impressive.
But this just wasn't any drunken drink fest they had clear criteria for judging, following the BJCP guidelines for styles, but adding their own revisions to fit their needs.
The competition was limited to American-style India Pale Ale, roughly as defined by the Beer Judge Certification Program. This is "single" IPA only: No DIPA, no session IPA, no black IPA and no IPAs with Belgian yeast strains. "Amber/red IPA" is the darkest beer included, as it hasn't quite been made into its own style just yet.

All the IPAs are under 8% ABV. This was a very tough limit to impose—the official BJCP definition ends at 7.5%, but many commercial examples can be found in the 7.5 to 8% range. From 8% onward, you will find most breweries labeling their beers as DIPAs, while a few still call them single IPA, although we also came across beers labeled "DIPA" as low as 7.5%. Unfortunately, this disqualified a couple potential beers, but a limit had to be set somewhere for the sake of fairness.

Each day we tasted 10 IPAs blind, in carefully selected heats (still secret to all the tasters but myself), selecting the top 2 from each group to advance to a final tasting of 25. We also included a couple of the highest-scoring beers to not advance from their group as wild cards.

The group of 9 judges who participated in the final round included BJCP certified tasters, professional brewers, brewery owners, beer website operators, the owner of a chain of craft beer stores and a handful of professional beer writers. We even had optimal glassware, thanks to a shipment of the best IPA glasses in the world from Spiegelau.
Here's a look a sample of some of the winners: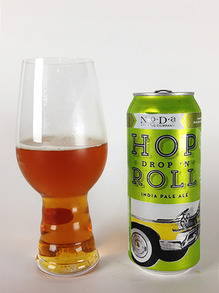 50. NoDa Brewing Co. Hop, Drop 'n Roll
City: Charlotte, NC
ABV: 7.2%
The verdict: When you've got a 2014 World Beer Cup gold medalist just barely scraping into the top 50, then you know you've got a seriously amazing lineup of IPAs on hand. NoDa's Hop, Drop 'n Roll might be called an excellent example of the loosely defined, now infrequently seen "East coast IPA" substyle in the way it balances its hop bill with a hefty balance of chewy, toasty, bready malt body. The hops are still layered on top in bunches, with character that vacillates between dank, sticky resin and perfume/grassiness. Assertive, full-bodied and in no way lacking character, Hop, Drop 'n Roll makes its presence felt.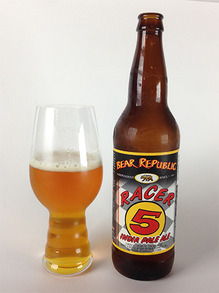 44. Bear Republic Brewing Co. Racer 5 IPA
City: Healdsburg, CA
ABV: 7.5%
The verdict: An older IPA brand that is still hanging in there, Bear Republic's Racer 5 has been appearing on these sorts of lists for more than a decade. In terms of volume of flavor, it's long since been lapped by some of the big, over-the-top IPAs that continue to redefine the style in terms of the mind of the American consumer, but Racer 5 still succeeds thanks to careful execution of a classic profile. Citrus, pine, grapefruit—it is THE classic California IPA flavor palette that made IPA so popular in the first place. You'd likely have a hard time identifying it blind because a lot of other IPAs have been made in the same way, but you'll almost certainly nod and say "Ah, now there's a classic American IPA." That's Racer 5.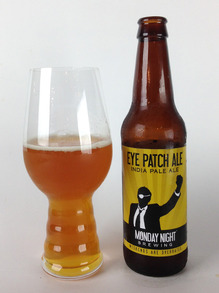 41. Monday Night Brewing Eye Patch Ale
City: Atlanta, GA
ABV: 6.2%
The verdict: A beer from Paste's backyard, but one we're still surprised to see in this position, the Eye Patch took several judges by surprise. It's a more unconventional beer than any of us realized, with a base of lightly nutty English Maris Otter malt and a portion of rye malt in the grain bill as well for good measure. From one judge's tasting sheet: "Pine, spice and tropical all at once. Orange on second pass. Divergent from other beers on the table." From another: "Juicy, with a subtle bite." In a blind competition of this nature, it's almost always a plus to have some quality that makes a beer unique, and this is one of the IPAs to embody that principle.
38. Abita Brewing Co. Wrought Iron IPA
City: Abita Springs, LA
ABV: 6.9%
The verdict: As we wrote in our positive reviewwhen this beer was first released just a few months ago, it represents Abita's re-entry into relevance discussion—a "legacy brewery" with lots of history but not a ton of critically acclaimed beers, coming through with a new release that has succeeded in turning some heads. They did this by analyzing the way the winds were blowing in the craft beer market and by fitting a beer that hit some of those flavor notes. Balanced caramel maltiness serves as the base for lots and lots of tropical fruity hoppiness—think grapefruit and melons, primarily. It claims 80 IBUs, but drinks far easier than that would suggest. It's a great, balanced, everyday IPA that should now be considered the brewery's new flagship, if it isn't already.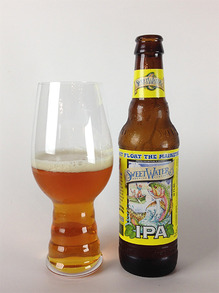 30. SweetWater Brewing Co. IPA
City: Atlanta, GA
ABV: 6.3%
The verdict: Of all the beers that Paste staffers and Atlanta locals see on a daily basis, this is probably the result that surprised us the most. Sure, we've always thought of SweetWater's IPA as a fine beer, but even in terms of local reputation it's not quite as iconic as the 420 Pale Ale. Tasted blind, though, it was a bit of a revelation—very clean and dry, with biscuity malt and a classic bouquet of pine, citrus and especially floral notes. A good reminder that great, balanced IPAs can be found hiding right in your own backyard, where you've long since progressed past taking them for granted.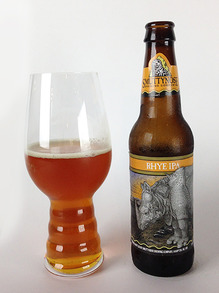 27. Smuttynose Rhye IPA
City: Hampton, NH
ABV: 6.8%
The verdict: The year-round IPA from Smuttynose, Finestkind, is a well-respected beer but the one that really caught our attention was this seasonal rye IPA. Even tasting blind, it was clear that something unusual and unique was going on here—from one judge's scoresheet: "Complex, spicy, unusual, fruity, peppery." Once the label was revealed, those "spicy/peppery" qualities made a lot more sense as a product of the rye malt in play. In fact, this beer was an excellent example of the complexity that non-barley grains can add to a classic American IPA—you see a lot of them with rye on the market these days, but few that really use the grain in such a way that it gives a unique flavor note that punches through so cleanly as it does here. A standard-bearing version of this particular IPA substyle.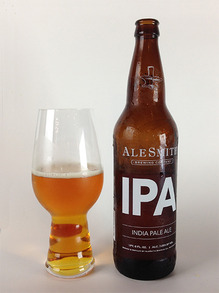 23. Alesmith IPA
City: San Diego, CA
ABV: 7.25%
The verdict: One of the IPAs that built the reputation of San Diego as the IPA capital of the world, Alesmith's India Pale Ale is a classic of the genre—no one has a bad word to say about this beer. It's everything good about the style—medium-bodied, light on malt, high on piney, citric hops and boasting lingering, resinous bitterness. It calls out for a huge burger as a companion to complete an all-American meal. You wouldn't taste it and say it's unlike anything you've had before, but you'd probably recognize it as one of the best expressions of a venerated style of IPA. It's one of the quintessential West Coast IPAs from one of the most dependably excellent breweries in the world.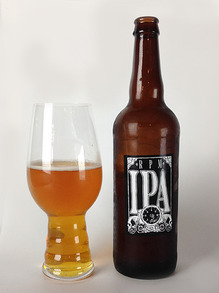 17. Boneyard RPM
City: Bend, OR
ABV: 7.5%
The verdict: How this thing is 7.5% ABV, we have no idea—at times, it almost seems like the perfect expression of a session IPA, a blank canvas upon which a carpet-bombing of hop flavors are thrust. It drinks so lightly and so easily that it's almost frightening, because the hop flavors are massive, all citrus and tropical—think tangerine and pink grapefruit, to quote one judge's score sheet. Completely and utterly unbalanced in favor of the hops—the malt backbone is like the straight man in some insane SNL sketch who stands there being flustered while the madness unfolds around him. And what delicious, intoxicating madness it is. This is on the super refreshing end of IPA, a beer that would be cherished on a hot climate.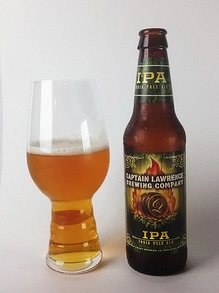 12. Captain Lawrence Brewing Co. IPA
City: Elmsford, NY
ABV: 7%
The verdict: You want a surprise? Here you go—probably the biggest dark horse surprise of the entire 116-IPA field: It's Captain Lawrence IPA! I confess, I had not even heard of Captain Lawrence when we started this thing, although several judges said they'd tried solid beers from the suburban New York brewery before. The brewery says this dark golden beer came as a result of reverse engineering: Taking their DIPA and scaling it down into an IPA recipe. Perhaps that's why it struck us so positively, but regardless of the reason it scored quite well both in its initial heat and in the final tasting. We found it very fresh, citric and juicy, with prominent flavors of orange and an undercurrent of tropical fruit as well. As one taster jestingly wrote, "MANGO MADNESS!" Of all the results in the final, this is the one that had the judges most surprised by a beer of such quality coming from a relatively un-hyped brewery.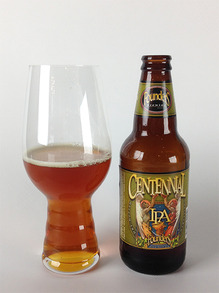 8. Founders Brewing Co. Centennial IPA
City: Grand Rapids, MI
ABV: 7.2%
The verdict: Talk about a beer that benefitted from the wild card spots. Founders had the tough luck to be in a particularly strong initial heat, and it ended up as the beer with the single highest score to not directly make it into the finals. As one of only a couple wild cards, then, it made its finals appearance count: Judges unanimously praised its slightly toasty malt character and impeccable balance. Hops are a classic blend of citrus and florals—as one taster wrote, "floral, honey, bit of grain, and lemon zest citrus." Despite that, this is not what anyone would call "flashy" beer—it's easily findable just about everywhere Founders manages to distribute, but that doesn't diminish its greatness. If anything, the fact that Founders can still mass-produce a beer this good on this kind of scale is a hell of an impressive achievement.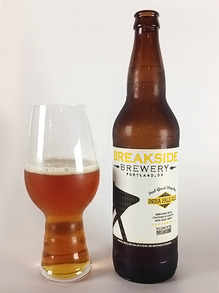 4. Breakside Brewery IPA
City: Portland, OR
ABV: 6.8%
The verdict: You never truly know if a beer that has won major awards will live up to the hype in a blind tasting. We knew that Breakside's IPA was one with a major star next to its name—that's what a gold medal at the 2014 Great American Beer Festival will get for you. But really, was it going to stand out in a crowd of 116 American IPAs? Answer: Yep. Absolutely. And yet the odd thing is, Breakside's IPA isn't extremely aggressive or easily identifiable by a certain flavor profile—if anything, it's right down the middle, West Coast classic. It scored so highly because it just does everything well. It's complex in every facet of the game, from a beautiful nose that blends resinous pine, florals and citrus, right down to a restrained caramel backbone. It's dry, perfectly balanced and sophisticated, a real joy to analyze. It's easy to see how it earned its medal.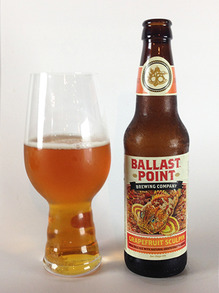 3. Ballast Point Brewing Co. Grapefruit Sculpin
City: San Diego, CA
ABV: 7%
The verdict: Grapefruit Sculpin was pretty much the only beer of the finals where it was completely obvious from the first whiff exactly what you were drinking—there's just no way to hide it, because no other beer smells quite like this one. It's an utterly unique product—we've had other beers that incorporate actual grapefruit into the brewing process, but none of them smell like this. Which is to say, Grapefruit Sculpin smells like the most delicious grapefruit candy you can imagine. The flavor isalmost as good—sweet, but not as syrupy as you would imagine from the heavenly nose, which makes it still drinkable despite smelling like something that came from a confectioner. It almost sounds like something that would be too much, too outlandish to be appreciable on a daily basis, but if we had regular access to this thing we would drink it constantly. It is fruitiness incarnate.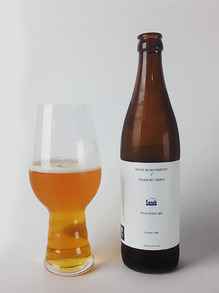 2. Maine Beer Co. Lunch IPA
City: Freeport, ME
ABV: 7%
The verdict: Let's a take a moment and acknowledge, first of all, the incredible fact that a small brewery in southern Maine managed to land two beers in the top five of this 116 IPA challenge. That is absurd. The only other brewery to get two beers into the finals at all was Ballast Point, but Maine clearly has the highest batting average in this competition. One brewery should not be able to score two hole-in-ones in a row, but they figured out a way, and here's the other thing—Lunch is really nothing like their other IPA, Another One. They're both equally great in completely different ways. Where Another One is very light, refreshing, intensely citric and juicy, Lunch is much more subtle, almost more in line with the same qualities that we praised in Breakside IPA. It's awash in all kinds of different hop flavors: Citrus, pine, floral and tropical fruit (especially grapefruit) all at once, but at the same time it's also very balanced by a light caramel richness. It's almost like a miniaturized DIPA. It feels like something that a lot of time, effort and careful consideration went into designing.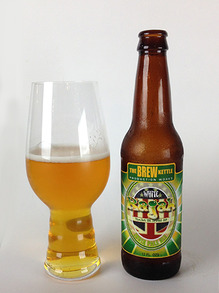 1. The Brew Kettle White Rajah IPA
City: Strongsville, OH
ABV: 6.8%
The verdict: A few weeks before we started tasting IPAs for this challenge, my father texted me from the Cleveland area, saying he was eating dinner at a place called The Brew Kettle while on a business trip. An affirmed hop head, he was drinking their White Rajah IPA, so I looked it up. Seeing its critical praises, I added it to our list of beers to acquire, thinking that perhaps it would be a dark horse candidate.
Fast forward to the day it first appeared in a preliminary heat, and we were utterly blown away. The aromatics on this beer are otherworldly—it is extremely hop-forward, with an intensely resinous, "green" blast of fresh, sticky pine needles, followed up by huge citrus. Malt? This IPA don't need no stinking malt! It's close to bone dry—what sweetness is present is almost hop-derived by its intense citrusy qualities. The flavors (and bitterness) are just huge and almost overwhelmingly assertive, but we were drawn in over and over for more. Here's the note from the one professional brewmaster present at the tastings: "Just perfect."